Upcoming Solo Exhibition
Frontier- Opening reception 8th September, Aras an Chontae, Tullamore with guest speaker, Carol Nolan TD
"Through a documentation of various roads and landscapes, Fox has produced a socially engaged exhibition, one being greatly influenced by the UK's  recent decision to leave the EU. He is looking at how 'Brexit' will impact border communities in Ireland. Producing paintings that focus on the day to day logistical implications of 'Brexit' on small Irish boarder communities and using this as a lens to view the bigger issue of what this means for the island of Ireland at large, highlighting the uncertainty that lies ahead."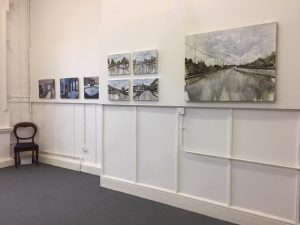 Installation View
The Meeting (part 2) Olivier Cornet Gallery, Dublin
A group show featuring work by
David Fox, Aileen Hamilton, Darina Meagher, and Vicky Smith
Exhibition runs until September 3rd
 Installation View
The Meeting
A group show featuring work by
David Fox, Aileen Hamilton, Darina Meagher, and Vicky Smith
Laois Arthouse, Stradbally, Co Laois: Opening on Saturday 1st July 2017, 1pm, guest speaker: Monica Flynn, Professional Development Officer, Visual Artists Ireland (VAI)
Olivier Cornet Gallery, 3 Great Denmark Street, Dublin 1: Opening on Sunday 6th August 2017, 3pm. guest speaker: Noel Kelly, CEO and Director of Visual Artists Ireland (VAI)
 Installation View
Playing the Market- ArtisAnn Gallery, Belfast
This exhibition features 8 exceptional artists; four established "bankable" stars of the arts world and four "ones to watch"
The show features:
Brian Ballard RUA
John Breakey RUA
Carol Graham RUA
Noel Murphy
David Fox
Ciaran Harper
Trina Hobson
Charlie Scott
ArtisAnn Gallery, 70 Bloomfield Avenue, Belfast, BT5 5AE
 Happy new year Folks! I am straight back into it with an upcoming solo exhibition scheduled for later this month.
A ROAD LESS TRAVELLED – AN CHULTÚRLANN PRESENTS A SOLO EXHIBITION BY BELFAST BASED ARTIST DAVID FOX
Exhibition runs until February 24th
Open daily, Monday to Saturday 10.00 – 18.00, Sundays 12.00 – 16.00
Further information: call 02890964180, visit culturlann.ie
Motorway (11), oil on board, 61x40cm, 2016, plus other works,- Now available at the Olivier Cornet gallery, Dublin, as part of the AGA group.
The AGA Group:
In addition to the group of artists represented, the Olivier Cornet Gallery also works with another group of artists, usually artists Olivier has met and engaged with at the Speed Curating Event, organised by Visual Artists Ireland (VAI) as part of their annual GetTogether day, in Belfast or at IMMA.
"This group of artists are recent graduates, artists at the start of their career, or emerging or established artists we work with for special projects. Other galleries tend to refer to these artists as 'project' artists. At the Olivier Cornet Gallery, they are members of the 'AGA group' or 'Associate Gallery Artists',"
for more information visit;
http://www.oliviercornetgallery.com/#/david-fox/4593288549
 Solo exhibition, 'There is much yet to be done', Galeria Silvestre, Tarragona, Spain.
'There is much yet to be done', is a series of works depicting some of the 'barriers'  such as peace walls and gates which are still maintained within the North of Ireland.  The exhibition was created in light of the 2016 centenary year commemorations. It is a focus on the north of Ireland and of how this past century has affected the current social and political climate, with the aim of highlighting that although the ambitions of the 1916 proclamation deserve celebration and remembrance, that they lie unfulfilled within the North.
This exhibition is currently on show and runs until the 7th of December. For more information please visit the gallery's website below;
http://www.galeriasilvestre.com/controllerexpo.php?a=actual
 Delighted to announce that I was a contestant on this years 'Landscape Artist of the year 2016', to find out how I got on, the first episode of the programme will be broadcast on Tuesday 11th of October at 8pm on Sky Arts.
 Group Exhibition, 'Republic', July 2016 Olivier Cornet Gallery, Dublin
This exhibition commemorates those who died in the struggle for Irish freedom. It is also a meditation on the goals of the "Proclamation of the Irish Republic" and how or whether the artists think that these goals have been fulfilled.
The exhibition runs till 31 August
Group exhibition, 'A continuing Journey' June 2016, Offaly Arts, Tullamore.
A centenary inspired group exhibition by based Offaly artists. The exhibition features abstracts, streetscapes, text and portraits which speak of the journey we are still on as a nation. Curated by Gary Robinson, a Longford based artist.
Solo exhibition, 'A road less travelled'  May 2016
I have recently travelled to Madrid from my 2nd international solo exhibition at Galeria Silvestre. the exhibition opens May 7th and runs untill June 30th 2016. More information on the gallery's website, follow the link below
http://galeriasilvestre.com/controllerexpom.php?a=actualm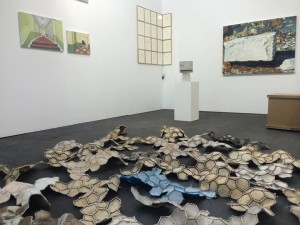 Positions Art Fair, Berlin
http://positions.de/
2015 has been a great year for me on the international stage, with a solo show In Tarragona, Spain, at Galeria Silvestre and the gallery has also represented me at international art fairs in Spain and beyond. I am now looking forward to the coming months of 2016. I am working towards solo and group exhibitions at home and abroad, including a confirmed solo exhibition in Madrid in May, and a group exhibition in Belfast at QSS in March…. busy times ahead!!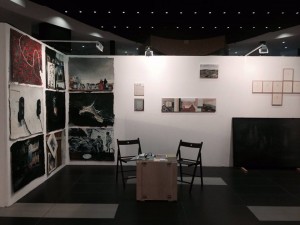 Gallery representation at Feria Marte, Castellon, Spain
Feria Marte is a Contemporary Art Fair in Castellon, on the Mediterranean, it is the season opening international fair in Spain, a unique opportunity to see in one place the newest offerings of contemporary art both nationally and internationally
Article featured in the Midlands Arts and Cultural Magazine  – Spring 2015 edition
 Jan 2015 solo exhibition
 Echoes of absence,
 Galleria Silvestre, Tarragona, Spain
http://www.galeriasilvestre.com/controllerartista.php?a=david-fox
http://www.galeriasilvestre.com/controllerexpo.php?a=echoes-of-absence
 Jan 2015
Lonely Planet, Luan Gallery, Athlone, Westmeath
Luan Gallery is delighted to announce the new exhibition opening on Friday 16th January, a collection of works by various artists.
Those include: Ester Barrett, Mary Clifford, Frances Crowe, Eileen Ferguson, David Fox, Cathal Gallagher, Jacinta Guinan, Anne Harkin-Petersen, Allyson Keehan, Pauline Keena, Jo Killalea, Frances McGonigle, Noel Molloy, Anne Rigney, Alexey Romanenko, Anna Marie Savage, Leonard Sheil, Lorraine Wall, Chanelle Walshe
and Ian Wieczorek
Guest Speaker on the night will be Brian Lynch, poet, playwright, screenwriter, art critic and novelist introduced by Gabrielle McFadden TD
Luan Gallery will host a drinks reception to celebrate the launch on Friday 16th January at 18:00, all welcome.
 Feb 2014
Collaborations 13 @Smock Alley Theatre, Dublin
Group exhibition
Collaborations was born in 2012 and set out to showcase new work, new artists & an atmosphere that supports & encourages collaboration across different disciplines.We wanted to encourage artists, performers, theatre makers to start something, to take a leap into that project that has been in their heads for the last few months, to put pen to paper or chats to tea or chords to music or print to frame and make it happen. Collaborations provides a platform for work that is in development. We endeavour to provide a safe environment with feedback and encouragement to make new work within the Arts.
Collaborations 2014 wants to keep growing, we want to introduce more, more companies, more artists, more work. We want to included music this year, we want to encourage youth theatres to work together & we want to expand our exhibition space/allocation.
SEPT/OCT 2013
is an exciting new initiative by Offaly County Council in association with The Arts council of Ireland, aimed at highlighting international contemporary arts practice in preparation for the opening of Tullamore Community Arts Centre.
Foundation 13 is a platform for new and innovative ideas and art works. Rather than focusing on two dimensional or traditional wall hung work Foundation 13 will encompass video, sculpture, installation, multimedia, performance, light and sound and will occupy multiple spaces in Tullamore town.
With the increasing number of empty commercial units all over Ireland artists and their work have become progressively visible on high streets and other designated commercial areas. Now occupying otherwise unused spaces and often working more and more with communities contemporary arts practice has evolved. Pop-up Art spaces are now thriving amidst the saturation of advertisements and the bombarding commerce of town and city centres, offering the public a window into an alternative use of shared public space.
Foundation 13 encourages public engagement, over our four week run we will be hosting workshops and talks with artists, curators, gallery owners and facilitators. We are also showcasing new theatre works, art house cinema events and collaborative based art projects.
Opening 26th of September 2013 at 6:30pm in Tullamore Library, O'Connor Square, Tullamore, Offaly and running until 24th October,  the galleries are open each Thurs – Sun  from 1-6pm and all are welcome.
David Fox, installation view at the G&M gallery
SEPT 2013
'One room, One week'
solo landscape exhibition by David fox
'The Absence of Presence'
opening the 7th of September at the Mullan Gallery, Belfast for one week. all are welcome.
images from the show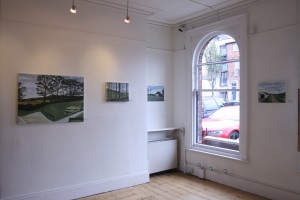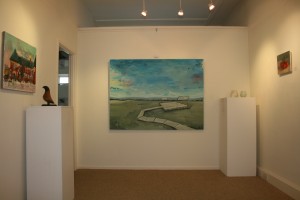 AUGUST/SEPT 2013
Visual Art Billboard project in East Belfast, hosted by Creative Exchange Artist Studios.
'Doig at The Mac –Belfast' is taken from a series of paintings by Fox that document gallery interiors. This piece is a painting of Peter Doig's show, held locally at the MAC gallery Belfast back in November 2012. Curated by Hugh Mulholland, Fox describes the event as ground breaking for contemporary art and painting within Northern Ireland.
The painting itself is clean and cool, with the pinks, greens and oranges of the exhibited paintings emphasised against the polished grey of the floor and strong whites of the walls and strip lighting. There are no members of the public milling about, nor any staff, the attention is on the space, the architecture, and the artwork at rest.
AUGUST 2013
Creative Exchange presents Art in the Eastside at the Engine Room Gallery
For the first time Creative Exchange is offering members of the public the chance to see a selection of the original artwork submitted for Art in the Eastside, the largest outdoor exhibition in Ireland which takes place annually across East Belfast.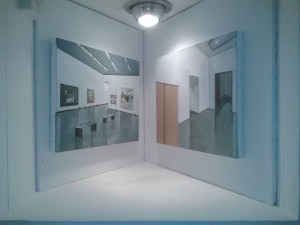 David Fox, installation view, '
Doig at the MAC
' and
'Lost at the Tate
'- The Engine Room Gallery, Belfast
AUGUST 2013
Group show, Hollywood, N.Ireland
JULY 2013
Great news!!